(scroll down for english version)
Christoph Piasetzki, geboren 1981 in Hamm (Westf), begann sein Studium der Ton- und Bildtechnik am Institut für Musik und Medien Düsseldorf in 2002.
Die folgenden Jahre beschäftigte er sich damit, die Ingenieurs-technischen Fähigkeiten zu erlangen, um den Zauber von dargebotener Musik  einzufangen und reproduzierbar zu machen. Über die Jahre erhielt er ein sehr breit gefächertes Spektrum von Klassik bis Heavy Metal mit einer Vorliebe für Bigband. Dies zeigte sich u.a. in seiner Diplomarbeit, in der Christoph die dramatischen Möglichkeiten der Bigband-Postproduktion im Zeitalter der Digitalisierung untersuchte.
Es überrascht also nicht, dass 2011 an der Folkwang Universität der Künste in Essen das Master-Studium 'Artistic Producer' mit dem Kernthema Jazz- und Bigband-Arrangement folgte.
Seitdem präsentiert Christoph Piasetzki erfolgreich sein Talent als Arrangeur und Komponist u.a. beim Musikverlag Classen Music Edition.
Parallel dazu arbeitete er beim düsseldorfer Startup Codeone GmbH an Webstream-Anwendungen und der Übertragung von Live-Video über IP-Netzwerke mit Hilfe von gebündelten 3G/LTE-Modulen.
Seit 2014 ist Christoph Piasetzki Tonmeister und Dozent an der Hochschule für Musik FRANZ LISZT in Weimar, wo er im zwei-Mann Team den Studierenden zahlreiche Aufnahmen ermöglicht und den Inhalt für den hochschuleigenen youtube-Kanal produziert.
---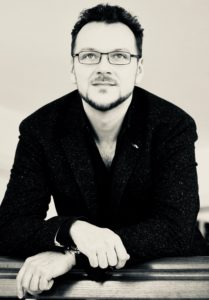 Christoph Piasetzki, born in 1981 in Hamm (Germany), started to study Audio and Video Engineering at the Institut für Musik und Medien Düsseldorf in 2002. Uncovering the myths of/Users/Pauline/Desktop/IMG_7749.jpg reproducing the spell of performed music through the application of decent engineering and high quality gear is the subject of matter for the next years. Beside the spectrum from Classical to Heavy Metal, Bigband becomes a key speciality – discharging in the diploma thesis about methods of pushing the possibilities of 'surgical Bigband postproduction' into the 21st century.
Unsurprisingly the postgraduate study is a Master of Music at the Folkwang University Essen with the core subject of Jazz- and Bigband-Arrangement.
After parallel working in a Düsseldorf startup for webstreaming services and IP-based Audio-Video-Transmission via multiple bonded 3G/LTE-uplinks, in 2014 Christoph Piasetzki begins an employment as audio-video-engineer and lecturer at the University of Music FRANZ LISZT Weimar. In a two-man-team recording-capabilities for the students are provided and the content for the University's youtube-Channel is being produced.