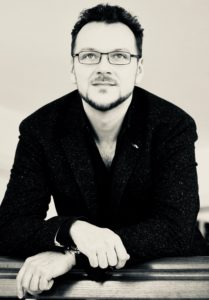 Christoph Piasetzki, born in 1981 in Hamm (Germany), started to study Audio and Video Engineering at the Institut für Musik und Medien Düsseldorf in 2002. Uncovering the myths of/Users/Pauline/Desktop/IMG_7749.jpg reproducing the spell of performed music through the application of decent engineering and high quality gear is the subject of matter for the next years. Beside the spectrum from Classical to Heavy Metal, Bigband becomes a key speciality – discharging in the diploma thesis about methods of pushing the possibilities of 'surgical Bigband postproduction' into the 21st century.
Unsurprisingly the postgraduate study is a Master of Music at the Folkwang University Essen with the core subject of Jazz- and Bigband-Arrangement.
After parallel working in a Düsseldorf startup for webstreaming services and IP-based Audio-Video-Transmission via multiple bonded 3G/LTE-uplinks, in 2014 Christoph Piasetzki begins an employment as audio-video-engineer and lecturer at the University of Music FRANZ LISZT Weimar. In a two-man-team recording-capabilities for the students are provided and the content for the University's youtube-Channel is being produced.